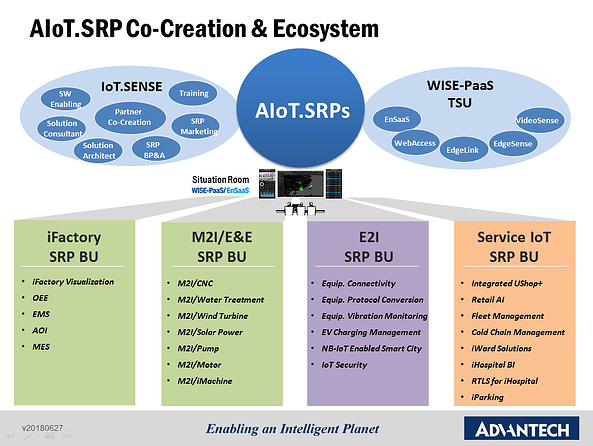 Industrial IoT (IIoT) applications are about to become widely implemented in various industries.
However, the key to success lies within Platform technology suppliers, as well as in working closely with industry professionals to integrate and form standardized and easily duplicated solutions (namely Solution Ready Package: SRP) based on a combination of software and hardware products. Eventually, IIoT industry chains will be formed as SRPs become established as comprehensive field solutions.
These SRP can then be installed by system integrators at the client site. Therefore, the IoT industry chain must include the widest technologies enabling the digital transformation such as: sensors, edge computing, communication, PaaS (Platform as a Service), industry SRP, and cloud services.
Following the introduction of mechanical production systems, work-sharing mass production and the automation of production processes, a fourth industrial revolution is now on the horizon. And the term introduced for this – "Industrie 4.0" – already points toward intelligent, networked systems: previously separated production environments are combined to produce universal production worlds, which are partly of a physical nature, and partly attain a new functionality in the cyber space of web connectivity. The focal point in this development is the convergence of information and automation technology, for which Beckhoff laid the foundation already in 1986 with PC-based Control, and it still offers the optimum control architecture for future Industrie 4.0 concepts.
In order to realise Industrie 4.0 following a genuinely holistic approach, three aspects have to be implemented: horizontal integration across company boundaries, vertical integration through networked production systems, and integrated engineering throughout the product lifecycle. PC control offers the right solution for all of that, especially since it can be adapted very flexibly to varying application requirements: intelligence can be arranged in a hierarchically modular fashion under the central controller, but also decentralised, i.e. with equal rights if necessary. In addition, there are hardly any technical systems today that cannot be operated by PC or at least be connected to a PC via software. Considering the great variety of manufacturing systems and technologies that are used in industrial enterprises, the key role of PC technology as an open platform and defacto industry standard for automation is obvious.
The openness and universality of PC Control can also be seen – entirely in the sense of Industrie 4.0 – in current research work for the seamless integration of information areas that until now have been separated. Beckhoff is one of the core companies of the technology network "it's OWL" (short for intelligent technical systems OstWestfalenLippe) which was distinguished in 2012 by the BMBF as a "Leading-Edge Cluster" and represents the first large-scale project supported in the context of Industrie 4.0. Here, Beckhoff as consortium leader of the innovation project "ScAut" – one of the three key projects of the leading-edge cluster – is driving the integration of engineering findings into standard automation under the keyword "Scientific Automation".
IoT devices need IoT-specific design, in-field management, and secure decommissioning. When deployment in the field, they have to be onboarded seamlessly, activated for the right services, managed with the proper credentials, and updated remotely during their active lives.
Just like the Internet of Things in general, the Industrial IoT covers many use cases, industries and applications. Initially focusing on the optimization of operational efficiency and rationalization/automation/maintenance, with an important role for the convergence of IT and OT, the Industrial Internet of Things opens plenty of opportunities in automation, optimization, intelligent manufacturing and smart industry, asset performance management, maintenance, industrial control, moving towards an on demand service model, new ways of servicing customers and the creation of new revenue models, the more mature goal of industrial digital transformation.
The definition(s) of Industrial IoT
Although most Industrial IoT projects are about automation, optimization and tactical or strategic goals in a mainly internal context – and will continue to be, we've seen some really transformational Industrial IoT (also known as IIoT) projects as well. More about the initial goals of many IIoT projects below. For now, back to what the Industrial IoT is.
Industrial IoT as the leverage and reality of IoT in a context of industrial transformation
Industrial IoT in the earlier mentioned sense was mainly used to make a distinction between the use cases, actual usage and specific technologies as leveraged for initially mainly manufacturing (smart factory) and, later, other industries on one hand and enterprise IoT and consumer IoT applications on the other.
This distinction obviously is somewhat artificial and on all levels there are overlaps. The fastest growing categories of IoT use cases, for instance, are cross-industry. Moreover, although some technologies, architectural frameworks and applications across all IoT layers differ (edge computing and fog computing are typical in Industrial IoT, there are different types of network and connectivity tools, IIoT gateways serve other purposes, Industrial IoT platforms support other use cases than IoT platforms overall, digital twins are mainly about industrial markets, the use cases for augmented reality are not the same and so forth) between Industrial IoT and Consumer IoT an average large IIoT project will leverage several forms of connectivity and solutions of which some are used in consumer IoT as well.
A Solution Ready Platform (SRP) is therefore born from the cooperation between Advantech and Alleantia: a solution that makes easily accessible the digital transformation of machinery manufacturers and end-users manufacturing processes.
Advantech, a leading brand in industrial computer platforms and industrial automation, IoT intelligent systems and cloud platform for Industry 4.0 , is writing a new page of its history, adopting the "Co-Creation" model, working with domain experts in different sectors to build comprehensive field solutions through IoT industrial ecosystem. This project will culminate with "IoT Co-Creation Summit" on November 1st and 2nd, in Suzhou, China, hosting more than 6 thousand senior executives from the world's IoT domains to exchange and share their ideas related to IoT. The event will include 100 in-depth discussion seminars focused on IoT-related topics, IoT solutions (AIoT.SRPs) and innovative applications co-created by 30 partners from key industry domains. The event is expected to have a major impact and to totally revolutionize the future of related industries.