The partnership is addressed to manufacturing companies to emerge from the stronger crisis and remain competitive internationally.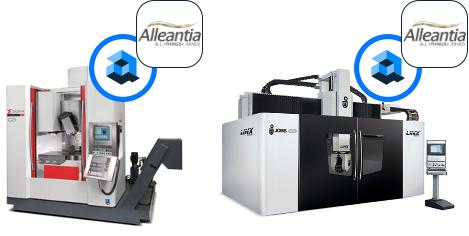 ● The digitalization of the industrial sector is lagging behind: the Covid 19 crisis has revealed the technological, organizational and cultural gaps linked to the adoption of digital innovation in companies. Concerns about the high costs and long durations of the project prevent the process.
● Actyx simplifies digitization with a specially developed platform. In addition, the first app store for the sale of software for factory activities made by independent developers will follow
Thanks to the collaboration with Alleantia, Actyx can now offer a first standard app on its platform. An important step to create the software solutions marketplace.
All of Europe is going through a time of difficulty and uncertainty due to COVID-19. To emerge from the stronger crisis and remain competitive internationally, manufacturing companies must now focus on digitization, says Achim Berg, president of Bitkom (German association of reference for ICT companies). So far, however, many companies have not started digitization projects, considering them complex and excessively expensive due to the long time required for their implementation. Hence the need for collaboration between Alleantia and Actyx.
The mission of this partnership? Making the digitization of factories even easier and faster. For this reason, Actyx has developed a platform based on edge computing that creates a framework to make digital transformation projects quickly achievable. The platform is already successfully used by various companies, including Peri, the world's leading manufacturer of scaffolds, and Klöckner, the German group among the leading global distributors of steel and metal materials. The Fraunhofer Institute also relies on the Actyx solution for its research on Industry 4.0.
Our partners build excellent software. Not just because they are great programmers, but because they understand your industry, your factory, your machines and your people.
To support manufacturing companies even more in the future, Actyx wants to create the first independent app store for industrial software. The German company has now reached a first milestone on the path towards this exclusive and important goal: the first standard app on the Actyx platform - through a collaboration with Alleantia. Alleantia IIoT gateways can now be easily and directly integrated by Actyx users.
The Italian software house simplifies the integration of industrial plants in plug-and-play mode, making integration, often complex and time-consuming, of machines, production lines and systems simple and quick. Alleantia already offers "out-of-the-box" integration for over 5000 industrial devices, CNC, PLC and is continuously expanding its Library of Things. From now on, the Alleantia software can be purchased and activated via the Actyx platform and used directly. In the future many more apps will be available on the Actyx marketplace.
Stefano Linari, CEO and President of Alleantia: "We are delighted to be working with Actyx, sharing a common vision. The Actyx platform provides an ideal basis for creating Industry 4.0 applications fast and useful for many manufacturing companies and application sectors. The Alleantia software will support these applications, allowing easy management of integration with any old and new machine and industrial equipment".
Oliver Stollmann, CEO of Actyx: "In the future, manufacturing companies will be able to download software exactly as an app, without any effort. The collaboration with Alleantia is a milestone in the direction of creating an app marketplace. But together we will achieve an even bigger goal: to create high added value IoT integrations for the end customer, developing simple solutions, quick to implement and with an extremely competitive cost ".
About Actyx
Munich-based software startup Actyx was founded in 2016 by Oliver Stollmann, Maximilian Fischer and Dr. Roland Kuhn. Together they specialized in the digitization of the main manufacturing companies. To do this, they developed software that creates autonomous communication between man and machine. In the meantime, the team around the founders has grown to 25 employees. Actyx software is already used in 15 factories around the world to optimize their processes and increase efficiency. Actyx's goal is to support manufacturing companies around the world to reach the full potential of their machines and production processes.
Actyx's mission is programming collaborative systems for machines and humans. Machines and humans work together with increasing autonomy and their interaction creates tremendous value which is why Actyx creates the tools to construct this collaboration. The smartphone has become a daily companion and so will the machine working next to you. For operational value and boosting teamwork, we must communicate horizontally with our neighbors, be that in physical proximity or when collaborating on the same task. Two of their famous products facilitate the company's mission to provide a simless technical control in the workplace; ActyxOS – a multi-device operating system and Actyx Pond – a typescript framework for writing distributed apps.
More than merely an IT project
The journey toward Industry 4.0 requires more than just an IT project. Although Industry 4.0 might be enabled by a variety of hardware and software, the success of an Industry 4.0 initiative relies on the organization's ability to change its business processes.
Take, for example, the automation of machine data collection, a common first step in digitization. This can help a maintenance team transition from preventative maintenance (which often requires unnecessary scheduled downtime) to predictive maintenance, an approach where machines receive maintenance only when the data reveals an operational irregularity.
Thus it is important to consider each Industry 4.0 initiative as a dual-pronged endeavor: you are introducing both a new technology and a new technology-enabled business process. Tackling digitization one step at a time makes it easier to successfully navigate both these aspects of the initiative simultaneously.
Overcoming these potential issues requires a robust change management strategy that places user acceptance at its center. The introduction of too many new initiatives can undermine them all by overwhelming users with too many changes at one time. In contrast, the thoughtful, seamless implementation of a single Industry 4.0 effort can help end users understand the benefits of the new technology and make them more enthusiastic for the next initiative. This approach also precludes some of the usual issues that plague big IT projects–such as implementation delays, regular interruptions, and bugs–that can negatively impact user acceptance.
Potential for quick wins
A smaller project is more likely than a larger project to be completed on time, stay within budget, and produce the desired outcome. That alone can be sufficient reason to take digitization one step at a time. Moreover, an incremental approach also provides an opportunity to achieve a quick win that can then be scaled across the organization. For instance, the implementation of manual work logging might immediately help identify bottlenecks–reducing lead times, improving OEE, and increasing on-time deliveries.
The key to attaining meaningful quick wins is to focus on a specific business problem or use case, and choose an appropriate technology to address it. A contract packaging organization might concentrate on the challenge of increasing machine uptime in a production environment that calls for frequent setups and job changes. Conversely, a glass manufacturer might look to reduce parameter variations that negatively impact quality.
Best practices for the first steps on the journey to Industry 4.0
Embracing Industry 4.0 currently offers a competitive advantage in many sectors of the manufacturing industry, but soon it will become necessary for manufacturers' survival. Now is the time for SMEs to begin that journey. Keeping a few best practices in mind can increase the odds of successfully progressing toward Industry 4.0.
Choose a business problem you can solve quickly without breaking the bank. Start conservatively not only with the scope of your project, but also with your budget. This way you can minimize the financial risk of the project, while also demonstrating ROI almost immediately.
Define the full scope of the project. Remember that scope includes implementing not only new technology, but also the connected business processes.
Be realistic about potential benefits, including ROI. Before embarking on any Industry 4.0 project, take some time to determine the benefits of the project and calculate the ROI. Be sure to translate operational value into business value and vice versa, so all stakeholders will have meaningful goals and metrics for the project.
Evaluate actual benefits and ROI and adjust accordingly. Compare the expected outcomes to the actual outcomes. Adjust your plan based on the actual benefits realized by the project.
Scale through iterations. Once the initial project has proven successful, the organization can digitally scale and achieve a first step in end-to-end digitization.
Easing into Industry 4.0 incrementally is ideal because a step-by-step approach allows room for changing business processes, ensuring user acceptance, and enjoying quick wins.