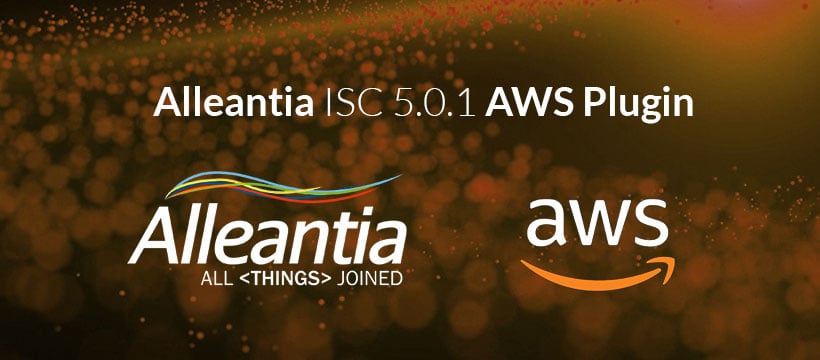 Alleantia launches its AWS IoT plugin.
Alleantia thus opens its platform for Industrial IoT completely Plug & Play to all users of Amazon Web Services (AWS), also allowing them access to the data of any industrial machine, device and plant and integration with all the countless possibilities of the world of AWS IoT.
The AWS plugin is among the new features of Alleantia ISC Software version 5.0.1 now available.
What is AWS IoT?
There are billions of devices in homes, factories, oil wells, hospitals, cars, and thousands of other places. With the proliferation of various devices, you increasingly need solutions to connect them and collect, store and analyze device data.
Broad and detailed
AWS has extensive and detailed IoT services from the edge to the cloud. In the cloud, AWS IoT is the only provider that can bring together data management and rich analytics into easy-to-use.
Multi-level security
AWS IoT offers services for all levels of security, including preventative security mechanisms, such as encryption and access control to device data, and a continuous monitoring and verification of configurations.
Securely scalable
AWS IoT is built on a reliable, secure, and scalable cloud infrastructure for billions of different devices and trillions of messages. AWS IoT integrates with other AWS services, allowing you to build complete solutions.
AWS and the Industrial Internet of Things
AWS IoT customers build industrial IoT applications for quality and preventative maintenance and to monitor operations remotely.
Industrial IoT (IIoT) brings together industrial machines, cloud computing, analytics and people to improve the performance and productivity of industrial processes. With IIoT, industrial companies can digitize processes, transform business models and improve performance and productivity, all while reducing waste. These resource-intensive companies operating in a range of industries such as manufacturing, energy, agriculture, transportation, and utilities, are working on IoT projects that connect billions of devices and generate value in a variety of cases. use including predictive quality and maintenance analysis, asset condition monitoring and process optimization.
A typical industrial facility has thousands of sensors that generate data. With IIoT, for example, manufacturers can combine machine data from a single line, factory or network of sites, such as manufacturing plants, assembly facilities, and refineries, to proactively improve performance. identifying potential bottlenecks, failures, manufacturing process gaps and quality problems before they occur. Combining data from a network of sites can also result in more efficient control of material flow, early detection and identification and elimination of production or supply bottlenecks, as well as optimized machinery operation and equipment in all facilities.
Predictive quality
Predictive quality analytics extracts actionable information from industrial data sources such as manufacturing equipment, environmental conditions and human observations to optimize factory production quality. With AWS IoT, industrial manufacturers can create predictive quality models that help produce higher quality products. Higher quality products increase customer satisfaction and reduce product recall.
Asset condition monitoring
Asset Health Monitoring detects the health of your machines and equipment to determine asset performance. With AWS IoT, you can capture all IoT data, such as temperature, vibration, and error codes that indicate if your equipment is operating optimally. With increased visibility, you can maximize resource usage and investment.
Predictive maintenance
Predictive maintenance analysis detects the health of industrial equipment to identify potential failures before they impact production, resulting in increased equipment life, worker safety and supply chain optimization. With AWS IoT, you can continuously monitor and infer the health, health, and performance of your equipment to detect problems in real time.

Aws IoT Plugin: the integration between Alleantia and AWS.
AWS IoT is the Amazon Web Services (AWS) platform that supports building IoT applications across its full range of solutions. AWS IoT offers services for all levels of security, including preventative security mechanisms, such as encryption and access control to device data, and a continuous monitoring and verification of configurations.
Alleantia's AWS plugin allows full integration of all AWS IoT services.