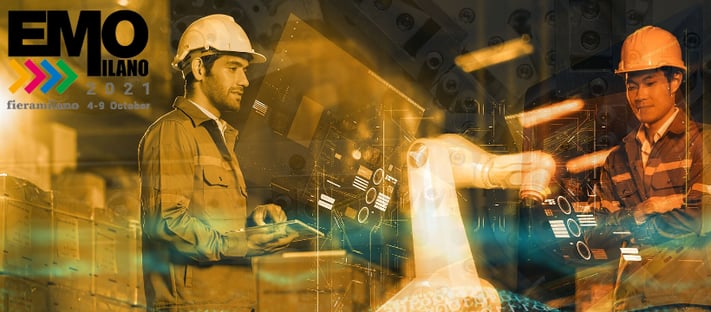 Alleantia, one of the world leaders in Industrial Internet of Things (IIoT) plug & play software, will be at EMO 2021 with its IIoT solutions and integrated applications from its Partners.

Come and discover, in Hall 7 booth F32, how Alleantia IIoT software makes possible the digital transformation of any industrial reality through the simplest, most scalable and powerful Industry 4.0 solution available today. Alleantia's plug-and-play IIoT technology is the beating heart of every industrial company's digital transformation. Designed and built to offer simplicity, scalability, reliability and speed of deployment, Alleantia IIoT software enables every industrial company to realize its digitization to achieve maximum efficiency, thanks to a fast integration between machines and applications, a wide ecosystem of certified partners (application developers, system integrators, platforms) and strategic partnerships with the world's leading IT players. Through Alleantia software, machine data become real strategic assets for industrial companies.
Partnership with TeamViewer
Alleantia, the only Italian OEM partner on the IoT, and TeamViewer will present, together with BARS srl and Melchioni, a cybersecure solution, which will allow remote operation of a robot installed hundreds of kilometers from the exhibition, for monitoring, technical assistance and remote support in augmented reality implemented by BARS, using the IIoT interconnection of the Alleantia edge software. The TeamViewer IoT agent, installed in Melchioni's hardware along with Alleantia's IIoT software, enables authentication, secure remote access without additional hardware to any PLC / CNC, and secure data exchange between device and cloud platform.
The same integrated solution will also be implemented to operate on a CNC Heidenhain TNC 620, present on the booth, where guests will be able to experience not only the monitoring and tele-assistance of the device through Alleantia and TeamViewer software, but also the use of Frontline's X-Assist with 'Smart Glasses', to be guided in the execution of tasks on the CNC.
The plug & play integration of the TeamViewer IoT platform with Alleantia, allows today to implement in a few seconds monitoring, analysis and remote service access on 90% of the industrial machine builders on the market, easily, from anywhere and at any time. In addition, it allows access to machine data from Augmented Reality applications built with the TeamViewer Frontline platform, which are instrumental in providing even more effective support and assistance services. The pre-built integration of TeamViewer IoT and Alleantia IIoT Edge Gateway allows manufacturing companies to quickly transform shop-floors into smart factories, and machine builders to remotely monitor, control and efficiently maintain their installed base, whether using new or older technologies.
Machines and Partners "Connected by Alleantia" at EMO
"Connected by Alleantia" monitoring will also be implemented on a Biglia B465 T3Y3 Multiturret Lathe, (Hall 1 booth D03), on a Victor VCenter P136 vertical machining center and on a Victor Vturn A26 YSCM CNC Turning Center (hall 2 stand D10-E11). Information on operation, machine statuses and more will be visible locally, and remotely directly at the Alleantia booth, again using the TeamViewer IoT platform.
Moreover, with this solution, thanks to the versatility of the IIoT solution of Alleantia, it will be possible to monitor the operation of an innovative machine for the production of nanomaterials through a process of electrospinning. In fact, a machine of Linari Engineering (Hall 5 booth C42) for the production of nanofibers with diameters typically less than a micron, down to a few nanometers, installed at the operational headquarters of Pisa, will be connected 'always on' always through Alleantia IIoT and TeamViewer IoT, for its monitoring visible at the Alleantia stand.
iProd (Hall 7 booth G44), with its MOP (Manufacturing Optimization Platform) system that was created on the basis of IIoT enabling technology to improve production efficiency through simple and fast interconnection, in an Industry 4.0 key, to any production machine, will present the updated version of its IoT Tablet where, in addition to Alleantia IIoT software, the integrated Teamviewer IoT monitoring solution will be installed, thus allowing to have a complete and ready-to-use solution for all the digitalization needs of a manufacturing SME.

MacBuilder4.0©
In addition, Alleantia will present MacBuilder4.0©, Alleantia's exclusive suite designed for machine and plant builders who want to transform their machines into Smart Machines to remotely solve, effectively and efficiently, their end customers' problems of maintenance and better use of production assets. With Alleantia's MacBuilder 4.0© suite, all machine builders can transform their own and their customers' problems and needs into solutions, enhancing digital business opportunities with maximum security. Services and features tailored to the needs of the new industrial world, pre-integrated and quickly deployable, thanks to which machine builders ensure the continuous innovation and competitiveness of their products and after-sales services in key 4.0, transferring to end-users the benefits of profitability of their use throughout the life cycle of the investment.

Managing Complex IIoT Networks
Finally, Alleantia's new product will be unveiled that enables the implementation of the IIoT control platform for all IIoT systems from the demos at the show. A product 'by Alleantia' developed to help customers monitor and manage all their 'Connected by Alleantia' IIoT gateways from a single point, with a single interface, to always have under control even complex IIoT networks, with all interfaces and communications implemented.
The importance of being there
"At a time like this, it is important to be there: Alleantia believes in the country's moment of growth confirmed by UCIMU and Confindustria numbers. The liveliness of Italian demand will be a driving force for the
The liveliness of Italian demand will be a driving force for the deliveries of manufacturers as the domestic market, which already at the end of 2020 was perceived to have resumed to grind orders, is responding well," says Stefano Linari CEO and Founder of Alleantia and underlines, Antonio Conati Barbaro COO and Co-Founder Alleantia, stating: "An even more important event this EMO 2021: back in Italy after 6 years and after more than a year and a half of forced stop to international exhibitions. An opportunity for innovation to be seized by all, in order to aim at a strong improvement in the competitiveness of Italian companies". Concludes Pier Luigi Zenevre, Director BU Industry 4.0 Alleantia, confirming: "The EMO Milano 2021 edition of the world of machine tools represents the ideal showcase for the affirmation of IIoT plug & play technology of Alleantia 10 years after our foundation. The substantial investments we have made, in the continuous development of our software, have received the approval of leading analysts and international strategic consulting firms in the Information Technology sector, thus giving us a frontier position among the leading IIoT solutions on the market."
Alleantia
Founded in 2011, Alleantia is a leader for its plug & play software solutions applied to the Industrial Internet of Things (IIoT). Alleantia's plug & play IoT technology is the beating heart of any industrial company's digital transformation. Designed and built to offer simplicity, scalability, reliability and speed of deployment, Alleantia enables each company to achieve maximum efficiency, thanks to a complete convergence between OT and IT, a wide ecosystem of certified partners (application developers, system integrators, cloud platforms) and works in partnership with the world's leading IT players. A platform that enables full IoT integration with a plug & play connection of any industrial device or production line, machine tool, industrial plant, with any on-premise or in-cloud IT infrastructure (e.g. Microsoft's Azure IoT Hub, Amazon's AWS IoT, TeamViewer IoT Cloud), an integrated 'Enterprise-grade' software management, remote installation and upgrade of Alleantia software, a proprietary library with 5000 ready-to-use drivers, able to offer high performance in data acquisition and management, interpretation and distribution, cyber security, with technical support and experience recognized in Italy and abroad.