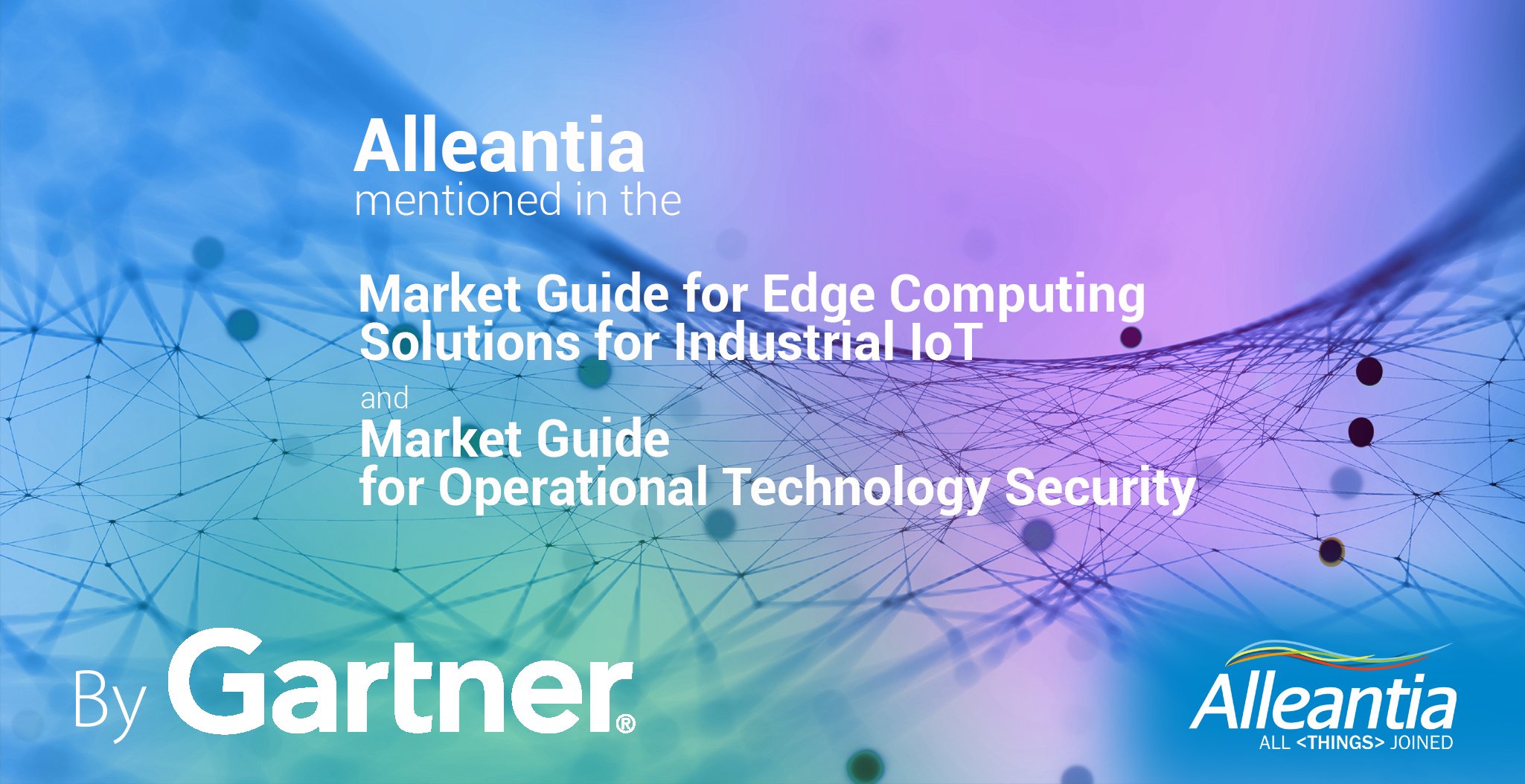 We are so proud to see Alleantia mentioned again by Gartner in both:
-Market Guide for Edge Computing Solutions for Industrial IoT
-Market Guide for Operational Technology Security
From Gartner:
"Stand-Alone Specialist OT and IoT Security Players to Be Most Challenged"
Founded in 2011, Alleantia is internationally known for its software solutions applied to the "Industrial Internet of Things".
Alleantia's IoT technology is the beating heart of the digital transformation of every industrial business. Conceived and built to offer scalability and reliability, Alleantia allows every company to achieve maximum efficiency, thanks to an absolute convergence between OT and IT, a wide ecosystem of certified partners (application developers, system integrators, cloud platforms) and works in partnership with the main global players in the IT world.
A platform that allows complete IoT integration with a plug & play connection of any industrial device or production line with any on-premise or in-cloud IT infrastructure (e.g. Azure from Microsoft or AWS from Amazon), a management of IoT edge gateways , the remote installation and updating of the Alleantia software, a proprietary library with 5000 ready-to-use drivers, capable of offering high performance in data acquisition and management and interpretation, IT security, with technical support and experience recognized in Italy and abroad.
Gartner is the world's leading research and advisory company. We equip business leaders with indispensable insights, advice and tools to achieve their goals and mission.
Gartner, Inc. is the world's leading research and advisory company and a member of the S&P 500. We equip business leaders with indispensable insights, advice and tools to achieve their mission-critical priorities today and build the successful organizations of tomorrow.
Gartner equips executives across the enterprise to make the right decisions and stay ahead of change
Founded in 1979, we are the leading research and advisory company. We've expanded well beyond our flagship technology research to provide senior leaders across the enterprise with the indispensable business insights, advice and tools they need to achieve their mission-critical priorities and build the organizations of tomorrow.
Alleantia Technology for Industry 4.0
The Italian company has decided to make system integrators, IoT and enterprise application developers, machinery and production system manufacturers and Innovation Managers available to anyone and anyone who may be interested, totally free of charge, in the trial component of their recognized technology and used by major IT partners and players such as Advantech, Cisco, Dell, Boomi, Ibm and Microsoft.
An enabling technology for Industry 4.0 and digital twins that has been named by Gartner analysts four times in the past two years as one of the best solutions in the Industrial IoT on the market.
Together with our clients, we fuel the future of business so that a more successful world takes shape.
IoT is not just a technology initiative anymore
Organizations implementing IoT are increasingly focusing on the business outcomes of the technology. IoT initiatives are no longer driven by the sole purpose of internal operational improvement. IT and business stakeholders must work together to align IoT projects with business objectives for improving revenue and customer experience, but they are bound by legacy approaches. Organizations with high levels of IoT maturity achieve higher rates of success in their IoT adoption.
Define measurable IoT goals
Adopting IoT solutions and achieving business outcomes is complex. Organizations lacking experience in adopting IoT-based digital technologies need a well-defined IoT strategy and a set metric to measure success. IoT leaders must develop a clear understanding of the enterprise's business objectives and the CEO's strategic imperatives. Work closely with business stakeholders to ensure that outcomes align with strategy.
The technology and service providers to be most impacted by the emergence of CPS security are those that operate as stand-alone players in niche areas such as OT or IoT security. Traditional IT security players have the opportunity to expand their total addressable market by reshaping their product strategy, aligning to the unique requirements of OT and IoT and providing industry-specific capabilities for CPS. Stand-alone security providers will additionally be impacted by an increasing number of original equipment manufacturers (OEM) of connected devices embedding security features. As a result, Gartner estimates that the majority of providers that retain a narrow focus will struggle to remain competitive and be out of business within five years. This, along with the expected increasing level of maturity around the CPS security concept, will drive an increasing number of OEM of IoT devices to embed security features in their products, and as a consequence, impact security market dynamics.
Gartner recommends industry leaders to build a modular and configurable solution, noting that Cognite "offers a modular services portfolio and pricing model allowing clients to enhance functionality and scale the solution step by step. Cognite offers four service levels: basic, premium, enterprise and business-critical" to address a client's specific needs and digital maturity levels."
The Internet of Things is evolving into a significant component and a major contributor to digital business initiatives across organizations. This Hype Cycle outlines the key areas that enterprises should evaluate as they accelerate their IoT initiatives.
IoT is regarded as one of the top five game-changing technologies due to its ability to create new sources of data, provide real-time performance updates and create new value propositions. This report looks at how far your peers have come with IoT, and the budget and financial requirements for new IoT adopters.
This impact will result in both a challenge and an opportunity for security providers. On one hand, the embedding of some security features such as access control, data security and communication security into devices will take away some market growth opportunity to security players. On the other hand, specialist security providers have the opportunity to partner with OEM manufacturers and develop this market through an indirect approach. One example is HARMAN (a Samsung Electronics company), a provider of security systems for connected vehicles, partnering with Fiat Chrysler Automobiles, an automotive manufacturer. Another interesting example in more recent times is WALLIX Group, a provider of privileged account management software, partnering with Alleantia, an IoT solutions vendor."
Thank you, Gartner!