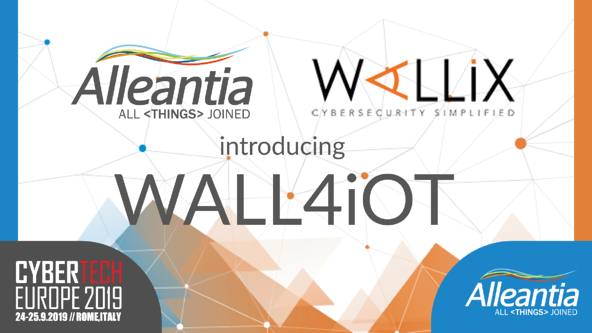 WALLIX, a global cyber-security leading software house and expert in Privileged Access Manage
ment (PAM), tightens a strategic partnership with
Alleantia
the Italian Software House specialized in IoT solutions for the industrial sector and debuts in the Industry market 4.0.
In line with its Ambition21 plan, WALLIX aims to become one of the main players in information security on a global Industry 4.0 market that is expected to reach $ 152.31 billion by 2022. To achieve this goal,WALLIX has created an industry practice charged with developing new Industry 4.0 solutions in collaboration with other companies and providing a more p
ersonalized response to the needs of key multinational industrial customers. Under the guidance of newly appointed global industry vice president Mark De Simone, WALLIX Industry Practice has signed an agreement with Alleantia, one of the Software Houses leader in the IoT solutions sector based in Italy. It is from this partnership that WALL4iOT is launched, an unrivaled IT security solution for device connectivity and industrial applications.
A global approach to industry challenges
With a Library of more than 5000 industrial drivers ready to use Alleantia easily becomes an ideal IoT partner for the global cybersecurity leader Wallix and release "Wall4iOT": a solution that holds the best of the IT/OT integration and cybersecurity worlds. Wall4iOT is the first worlds universal cybersecured industrial IoT software gateway.
With 300 customers in the industrial sector located in all territories where WALLIX is present, including France, Germany, Poland, the United Kingdom, Spain, the Middle East, and the US, WALLIX has strong expertise in the industrial cybersecurity field. The WALLIX Bastion privileged access management solution protects remote access to industrial sites (remote maintenance of SCADAs and industrialPLCs) and presents strong differentiators in this sector with, in particular, an especially advantageous TCO (Total Cost of Ownership).
Up to now, industry has operated on the basis of closed systems. Now, however, migration to Industry 4.0 means that machines, applications and factories are being increasingly connected to cloud systems using big data and artificial intelligence (AI) and interfaced with corporate IT systems. This convergence between industrial and standard computer technology is radically changing the game.
The new connectivity, which is conducive to just-in-time production, optimizing manufacturing processes, cutting costs, and efficiency gains, generates cyber risks different from those associated with standard computing that can lead to drastic consequences.
Connected industry is more exposed to cyber-attack due to the increased number of entry points. As a result, new solutions are required to tackle this problem. WALLIX regards Industry 4.0 as a sufficiently distinct sector offering sufficient opportunities to justify the creation of a specific Industry Practice endowed with specific resources.
Newly appointed VP Global Industry Practice Mark De Simone explained: "Our Practice will speak the language of industry and understand its needs. Our main tasks are to define a strategy for industrial global accounts, develop new solutions to meet their requirements, and set up partnerships with industry specialists in order to gain access to new distribution channels and help develop a suitable language for this sector."
WALL4iOT: a fully secure solution for enhancing connectivityin industrial facilities
An initial partnership has been set up with Alleantia, a leading IIoT specialist, whose solution guarantees connectivity between different types of industrial devices (plants, transportation asset, industrial equipment, etc.), cloud platforms and business applications (predictive maintenance, production management, etc.). The Alleantia ISC edge software gateway is a user-friendly, fast plug and play platform for integrating industrial facilities within the Industry 4.0 paradigm. "The launch of WALL4iOT today has been made possible by combining our respective expertise in IIoT and cyber-security. Alleantia ISC will be enhanced with PAM WALLIX Bastion password protection features, allowing fully secure protection of industrial facility connectivity. WALL4iOT is the first ever natively-secured multi-protocol industrial gateway," Mark De Simone explained.
Alleantia CEO Stefano Linari added: "Adoption of the WALL4iOT "powered by WALLIX and Alleantia" can now offer a Cybersecurity solution able to ensure an even faster and safer growth of our secure Industrial IOT gateway.This newly created solution category will accelerate Industry 4.0 transformation growth."
WALLIX CEO Jean-Noël De Galzain explained: "WALL4iOT is an innovative first response tailored to the needs ofIndustry 4.0. One thing is certain: all industries are going to need this kind of solution. The further down the line you go towards digital transformation, the more you will need the WALLIX cyber-protection solution."
Wall4iOT will be presented for the first time at CYBERTECH Europe in Rome on the 24th and 25th of September.