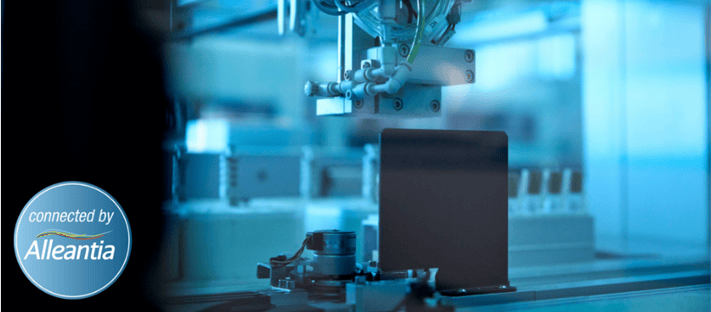 Pisa, November 2021
Alleantia, among the world leaders in plug & play software for the Industrial Internet of Things (IIoT), will be at MECSPE 2021 with its IIoT solutions to support the integrated applications of its Certified Partners.
Connected by Alleantia
Come and discover, at BolognaFiere, in Hall 21, Fabbrica Digitale, how Alleantia's IIoT software makes possible the digital transformation of every industrial reality through the simplest, most scalable and powerful Industry 4.0 solution available today. Alleantia's plug & play IIoT technology is the beating heart of any industrial company's digital transformation. Conceived and developed to offer simplicity, scalability, reliability and speed of deployment, Alleantia IIoT software allows any industrial company to achieve its own digitalization to reach maximum efficiency, thanks to a fast integration between machines and applications, a wide ecosystem of certified partners (application developers, system integrators, platforms) and strategic partnerships with the world's leading IT players. Through Alleantia software, machine data become real strategic assets for industrial companies.
Certified Partners and "Connected by Alleantia" Products at the exhibition
Euris (Hall 21 booth A83), provides IT services and develops tailored, innovative and high value-added software solutions. The core business, supporting the customer in identifying and managing cutting-edge solutions, is translated into a line of verticalized offerings managed by specialized Business Units: ELEA is the B.U. that deals with IoT and Industry 4.0. ELEA presents in MECSPE Smart Pack 4.0: a complete suite that leverages Alleantia MacBuilder4.0 technology in addition to Eliot4.0 technology. Leverage this solution to transform machines into Smart Machines to make support services more efficient and effective, provide customers with digital services to improve the efficiency of plants and production processes; ensuring the cyber security of solutions and sensitive data.
Infor (Hall 21 booth B34), provides advanced infrastructure systems, management information systems, production applications, networking services, internet and security, communication and professional training for business innovation. Infor4.0 is the first solution that fully meets the needs of a Smart Factory thanks to the combination of hardware devices, software and web applications that manage, store, transmit and analyze production data in total security. The Alleantia solution is Infor 4.0's IoT gateway to manage all plant and machine tool data, so it can be managed and analyzed through Infor's suite of products. The Infor 4.0 platform, among other plus points, integrates the Kaspersky KICS system dedicated to industrial cyber security, with the aim of protecting industrial security and data analysis aimed at improving OEE and increasing the effectiveness of the maintenance plan and representation of KPIs such as MTBF, MDT, MTR, A., through a structured method conducted with FMECA - MA-GE logic.
iProd (Hall 21 booth B91), with its MOP (Manufacturing Optimization Platform) system, which was created on the basis of IIoT enabling technology to improve production efficiency, through simple and fast interconnection, in key Industry 4. 0, to any production machine, will present the updated version of its IoT Tablet where, in addition to Alleantia IIoT software, will be installed the integrated monitoring solution Teamviewer IoT, thus allowing to have a complete and ready-to-use solution for all the digitization needs of a manufacturing SME. iProd MOP allows the Machine Builder to transform his machine with a 4.0 App, staying in touch with his customer and with the interconnected machine thanks to iProd, providing new products and services, even contextually, according to the use of the asset. Thanks to the Artificial Intelligence of iProd's Contextual Marketplace, the Machine Builder can add new products and services to build customer loyalty by selling their products, services, accessories, spare parts and consumables, automatically, with targeted offers based on the customer's use of the machine.
Porini (Hall 21 booth B64), a leader in the design of Advanced Analytics and IoT solutions on the Microsoft Azure platform. Porini Insight is the company of Porini Group specialized in the design and implementation of end to end IoT solutions, Industry 4.0 projects and Social CRM, Business Analytics and Performance Management, Collaboration and Knowledge Management tools. Porini Insight develops integrations with Alleantia solutions in manufacturing in different sectors, such as Mechanical Industry, Food & Beverage, Fashion & Textile, Utilities and Pharma. Porini Insight's distinctive competencies in Advanced Analytics and Machine Learning allow to enhance the digital transformation and process innovation projects enabled by Alleantia's platforms.
Vodafone (Hall 21 booth A32), with the Vodafone Industrial Connect (VIC) solution. VIC is a ready-to-use IoT solution designed to digitize existing manufacturing facilities, monitor real-time input/output data, and gain insights into the operation and status of key facilities to optimize the production process and make development decisions. The VIC solution responds to the need of the manufacturing sector to have an Internet of Things service ready to use and easy to integrate into the existing production environment, even if it consists of plants of not recent realization. The solution was developed by Vodafone Business by uniquely and innovatively integrating the cybersecure hardware component from Cisco, a world leader in networking and IT, Alleantia's IIoT software and Vodafone's secure connectivity. The scalable, easy-to-use solution helps companies make the most of the technology's potential without having to manage its complexity.
The importance of being there
"The MECSPE exhibition, now in its nineteenth edition, is an appointment that cannot be missed. Every year it has been a costant g of exhibitors and visitors and the move to a bigger venue, Bologna, is surely a demonstration of the importance of the productive sector it represents: the manufacturing sector, the sector that, numbers in hand, is growing" states Stefano Linari CEO and Founder of Alleantia and underlines, Antonio Conati Barbaro COO and Co-Founder Alleantia, saying: "Come and find the idea you are missing is the slogan of this exhibition. Visiting MECSPE means to get in touch with the leaders of the manufacturing sector and Alleantia could not miss in this call: for this reason we have dedicated ourselves to support all our different Partners present in Bologna in this edition, to present at best our IIoT offer combined with the most effective application solutions for the digital transformation of manufacturing companies and machine manufacturers". Concludes Pier Luigi Zenevre, Director BU Industry 4.0 Alleantia, confirming: "MECSPE presents to the visitors a complete overview of the industrial production and supply chain thanks to 13 thematic halls, squares of excellence and product districts that allow a better orientation for the participants: Alleantia, IIoT leader, could not miss after two years of absence of the event: together with our partners we bring to the exhibition the complete offer of our technological bundle.