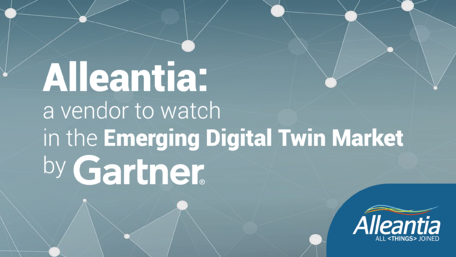 Digital Twin: the technology enabled by Alleantia that will revolutionize tomorrow's digital transformation projects.
Alleantia, the Italian Software House based in Pisa that develops innovative and cutting-edge Industrial IoT solutions, has been included among the "Vendors to watch" on the new Gartner report "Market Trends: Software Providers Ramp Up to Serve the Emerging Digital Twin Market".
Alleantia's presence in the prestigious report by Gartner, a research and consultancy company that provides essential business information for tomorrow's global and technological development, confirms the exclusivity of the Alleantia proposal, officially considered one of the nine IoT solutions in the world capable of enable "Digital Twin" technology, today the leading trend in the global IT market.
The demand for the development of digital transformation projects is constantly growing and the Industrial IoT market is progressively changing. Alleantia, born with the aim of quickly and easily solving IT / OT integration problems in the industrial and strategic organization of orders of any type of plant, confirms the power of its technology thanks to the important recognition received by Gartner.
Alleantia technology, plug & play and no coding, boasts a unique portfolio of 5,000 drivers to interconnect any industrial device. Thanks to the simple and fast interconnection, Alleantia's IoT software edge allows to make available, in real time, machines data interconnected to the most varied IT applications realized by the ecosystem of developers and system integrators. The Alleantia technology, thanks to its powerful "Library of Things" and its portfolio of easy-to-use industrial driver editors, is therefore able to enable Digital Twins: machine's digital copies. Alleantia, thanks to its enabling technology, is therefore able to provide in real time essential information to IT development platforms such as AWS, GE Predix Platform, IBM Watson, Microsoft Azure, PTC ThingWorx, SAP.
Knowing in real time the functioning of a productive asset and intervening immediately in the correction of any type of error or anomaly related to the production process, guarantees to every type of industrial plant to achieve and maintain maximum efficiency and maximum of performance indicators.
"Gartner's recognition is an exceptional goal for us." – intervenes the CEO of Alleantia, Stefano Linari – "A certification that underlines how Alleantia, thanks to its versatile and ready to use technology, is an IoT market-leading solution. Being recognized by Gartner among the nine "Vendor to Watch" in the world enabling Digital Twin technology makes us deeply proud. A milestone that represents a significant step forward in achieving our

customer's satisfaction in creating, through the IoT, the digital transformation of industrial products, processes and services generating new value and new business models."

Such a great achievement! A huge thanks

to Gartner and all Alleantia team's members.

Check the report below:

Market Trends: Software Providers Ramp Up to Serve the Emerging Digital Twin Market https://hubs.ly/H0kKHnJ0