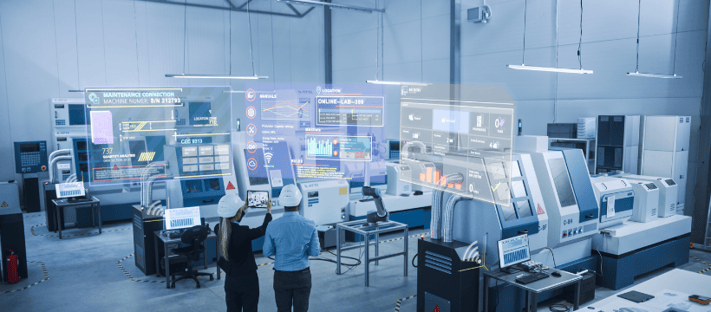 The Industrial Internet of Things (IIoT) connects products, people and processes to power digital transformation. Using Industrial IoT platforms, companies connect, monitor, analyze and leverage data in new ways.

By connecting machinery and tools, Industrial IoT (IIoT) enables manufacturing companies to improve real-time production visibility. The massive amount of data coming out of Industrial IoT devices is increasingly the fuel to optimize production, improve delivery quality, introduce predictive maintenance, automate the supply chain, and more.
Industrial IoT also represents one of the technologies at the heart of the so-called Industry 4.0. According to this principle, which is part of a broader fourth industrial revolution, digital technologies - IoT devices, but also sensors, cloud, machine learning, collaborative robotics, 3D printing - would be able to increase the efficiency and value of production by stimulating interconnection and cooperation between all resources, inside and outside the company.
Digitizing data about materials, processes and equipment enables optimization of production and maintenance of the machines used.
Starting from the collected data and simplifying the interactions with the operators thanks to digital supports, it is possible to exploit mathematical and statistical models to suggest actions and corrections based on the historical knowledge of the production process, identify anomalies, track the progress of production batches and analyze the processing times and costs related to purchase orders.
Discover Alleantia's Industry 4.0 solution
We enable the digital transformation of every industrial reality through the simplest, most scalable and powerful Industry 4.0 solution.