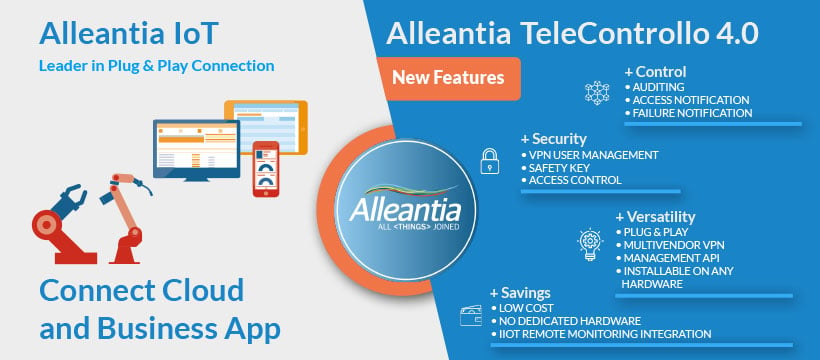 An integrated remote control (telecontrollo) that provides every machine with countless IoT functions. Possible? Yes.
The latest product innovation at Alleantia is called TeleControllo 4.0: the safe solution, in IT terms, which allows you to remotely operate directly on the controllers (PLC, CNC, PAC) for technical assistance interventions and for the monitoring of assets, all while benefitting from the typical Industrial IoT interconnection functions of the Alleantia software edge.
But what is it meant by remote control?
If the definition of this sector was once rather precise, today there are aspects of Remote Control that have intrinsically become part of components and devices or distributed systems. Simplifying the issue, Remote Control could be described by three macro-blocks, the name of which clearly highlights its historical evolution: monitoring, control and optimization. The development of Remote Control, over time, has required dominating the technologies of the moment, putting them to good use to consolidate and expand the content and functions of macro-blocks, revolutionizing architectures, systems, processes and functions that underlie or are connected to Remote Control. Among the macro-blocks, optimization is certainly the least mature and known one in Remote Control. This is because many create a logical frontier in what was the scope of the Scada, without considering that it was the process of expanding the Scada, vertically and horizontally, which significantly contributed to the convergence between the Operations and Information Technology worlds.
By remote assistance we mean a system that provides temporary access to a plant or machine. By activating the remote control service, however, it is essentially required to create a permanent connection with a remote station. Thanks to the different alarm systems it is possible to receive timely notifications regarding different conditions and to guarantee reliable plant availability.
The convergence of OT and IT has found fertile ground to support ongoing revolutions and open up new opportunities for all. A new "leg" of this sector is autonomy, that is the ability to automate elaborations and processes in order to optimize and control, arriving at the concept of "autonomous driving remote control", which rests its implementation bases on what underlies the artificial intelligence.
The Remote Control sector is part of an ecosystem, whose skills and experiences enable the possibility of reaping the benefits and opportunities associated with the adoption of technologies that concretize the concept of Industry 4.0.
Alleantia's TeleControllo 4.0: remote control with IoT functionality
An absolute novelty for the sector. In the latest release of its ISC 5.0 software, Alleantia integrates the first remote control platform in a 4.0 key, with IoT potential, which protects against possible security compromises and data leaks. Remote Control 4.0 by Alleantia is able to offer owners and manufacturers of industrial machines absolute security of remote intervention thanks to centralized control and traceability of accesses and authorizations, in real time, to the machinery controllers.
The continuous and secure transmission of process data to the control center allows monitoring and regulation of external stations as well as remote substations.
The advantages of Alleantia's TeleControllo 4.0 in brief?
➕ Security
➕ Control
➕ Features
➕ Savings
➕ Versatility
To find out more about Alleantia's Remote Control 4.0 contact us.