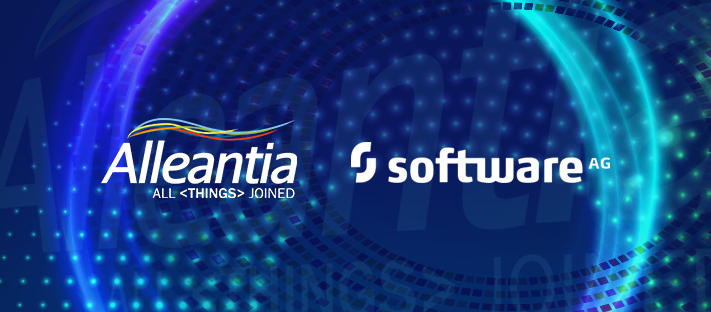 Milan, December 14, 2021
Software AG

and

Alleantia

, a leader in its plug and play software solutions applied to the Industrial Internet of Things (IIoT), announce a

new collaboration

which will provide a

natively integrated, low code, plug and play solution to connect any industrial machine and manufacturing plant to the Cumulocity IoT platform and its IoT applications.
Thanks to Alleantia ISC, rated as the best industrial IoT software on the market, new devices and protocols can be added to IoT ecosystems with ease, then be able to immediately use all the self-service tools of Software AG's Cumulocity IoT, the IoT platform named as a Leader by leading analysts, to deliver new IoT-enabled services, develop new revenue streams and improve company competitiveness.
The joint proposal provides modular and integrated self-service tools to support any Industrial IoT and Industry 4.0 project: from remote management and monitoring based on analytics such as condition monitoring, time series analysis, Machine Learning, integration of OT and enterprise systems, to building new innovative applications that leverage IoT and enterprise application data, fully integrated.
Software AG's Cumulocity IoT platform also provides a great integration tool, offering 300+ connectors and a low-code development environment to fully integrate the IoT solution with any IT platform. The Alleantia gateway ensures the highest level of integration into any manufacturing plant, leveraging its library of 5000+ drivers, 40+ industry protocols, driver creation and IoT network management tools, and its multivendor and multi-OS architecture. On prem, in the cloud, anywhere.
Antonio Conati Barbaro, COO of Alleantia, says: "We are very pleased with the collaboration we are establishing with Software AG, which has fully embraced our zero-coding and plug&play strategy for the digitalization of industries. The joint solution allows companies to effectively and quickly exploit production and machine operation data, as well as all plant data, together with corporate data on customers, orders, processes, turnover, to enhance production capabilities, innovate business processes and substantially increase their competitiveness".
Enrico Manzoni, Head of Alliances and Partnerships at Software AG Italy emphasizes: "This agreement confirms the value of PartnerConnect, the new alliance program of Software AG. The one with Alleantia is for us an important partnership to help Italian companies, and not only, in the path of digitization and automation by approaching in a quick and easy way the IT world and the OT world. Thanks to this agreement we will shorten the time to introduce new business models, such as servitization where it is essential to be able to change solutions very quickly."
Alleantia and Cumulocity enable IoT solutions to be deployed transparently to devices and infrastructure; the solution can be deployed on premise, in the cloud or in a distributed fashion. A distributed architecture ensures maximum value from collecting data and running real-time analytics on the edge for immediate responses, and leverages a cloud IoT platform for device management, data collection and integration with IT platforms.