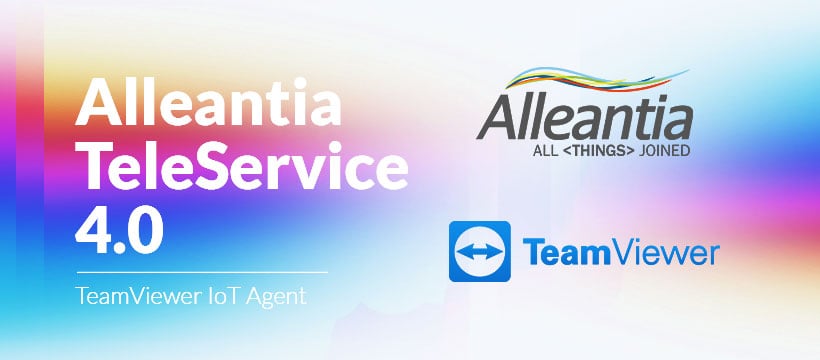 The T

eamViewer IoT Agent

will be integrated with

Alleantia's TeleService 4.0

.
TeamViewer, a leading global provider of secure remote connectivity solutions, today announced its partnership with Alleantia, a leading provider of Industrial IoT Integration platform.

The collaboration enables Alleantia and Teamviewer customers, like machine builders, service teams, factory owners, to connect, to program and analyze their shopfloor assets remotely.
The partnership will combine remote PLC programming access, a unique plug&play IIoT edge solution with a library of 5000+ devices, and the benefits of an IoT cloud with the high interoperability and the well-known secure, end-to-end encrypted connectivity of TeamViewer.
The digitalization of shopfloors increases productivity, quality, and reliability significantly, improving the return of investment of the manufacturing assets as well as the complete value chain. In addition to the obvious benefits, it can also be a main source of data to gain valuable insights.
TeamViewer IoT and the Alleantia IoT Integration Platform provide a joint solution that allows users to easily connect any machine or industrial device to the cloud and analyze the gathered data with the help of AI to process the results in alarms. With the option to connect to affected devices in no-time the analysis of the data reduces maintenance costs and provides the ability to offer better services and faster reaction times for machine manufactures and operators.
Lukas Baur, Executive Vice President Strategic Solution Sales at TeamViewer, explains: "The fast deployment and data generation on the shop floor is a key element to improve the overall equipment effectiveness, reduce costs and increase ROI. We are very happy to have Alleantia as a strong and well-known partner on board to drive the implementation of our solution in this field."
Antonio Conati Barbaro, COO at Alleantia, adds: "Alleantia IIoT Edge software, with its plug&play connection capability for 90%+ of the industrial machines in the market and its Teleservice capability, together with TeamViewer's unique integrated secure access and IoT Cloud solution, are not only able to connect almost any machinery on the shop floor of almost any client in no time, but also support all 'digital needs': remote assistance, asset monitoring, MES/ERP integration, predictive maintenance, and more. We lower the bar for IT/OT integration and for complete Industry 4.0 solution implementation significantly, which was one of the key concerns of our Clients."