What

benefits

drive, or should drive, a company to approach

Industrial IoT

? What motivations behind a company's digital technology evolution? How to successfully undertake a winning technology roadmap?

Industrial IoT, is changing the world rapidly, transforming the way companies conduct business, helping them become faster, smarter, safer and more efficient in their industrial process.

The importance of IIoT and Industry 4.0
The Covid-19 has accelerated the investments of enterprises in the IoT field and in Industry 4.0, thus turning it into a valuable ally and a key asset to keep competitiveness alive and "break" established business patterns.
The benefits of Industrial IoT
From the chart below, we can see how the Internet of Things is used, primarily, to optimize operations and increase productivity. Security, understood as Safety and Security, is in third place but will surely be impacted in the following years given the latest dynamics.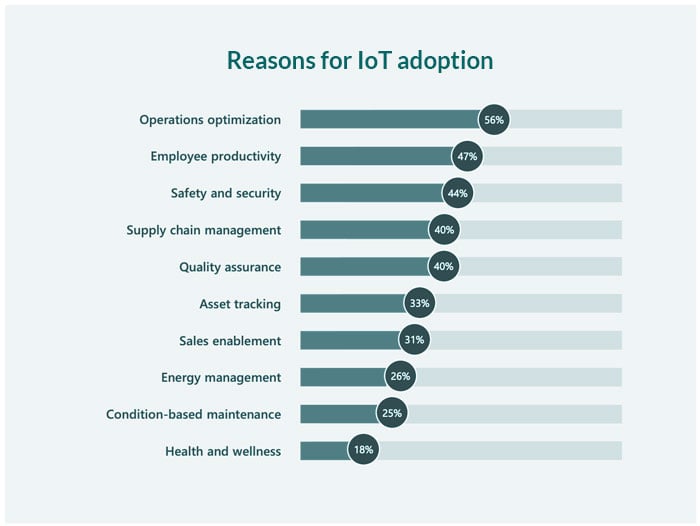 One in four companies already use IoT solutions in the production environment and 40% of the remainder plan to adopt, this digital transformation in the next two years. By harnessing the enormous potential of the Industrial Internet of Things, companies are closer to their customers and have increased, even significantly, their business volume.
Industrial IoT technology roadmap
Most companies consider the use of digitization in their business as essential to compete in increasingly aggressive markets.
An IoT project can be classified into four phases:
Learning,

Testing,

Procurement,

Implementation.
A further technological step, is Edge computing: Edge computing and IoT represent an ideal combination to create new scenarios. Having devices with integrated analytics capabilities, in which data processing is performed as close as possible to the source of the data itself not only speeds up analysis times, but also eases data flows to the cloud.
Also, the latter aspect not to be overlooked, in the event that an IoT device collects personal data, users have peace of mind knowing that the information it contains remains in their possession and custody.
According to analysts, in 2022, thanks in part to the growing adoption of hybrid cloud environments, edge computing will play an increasingly important role in IoT solutions, especially in those usage scenarios where information needs to be delivered in a timely and secure manner.
IoT in companies: the ranking
IoT is widely adopted globally, with Australia, Italy and the United States leading the way. In terms of the percentage of projects in the use phase, the U.S. leads the pack, with 27% compared to countries like Spain (22%) and Australia (18%). The U.S. is ahead in terms of increasing IoT usage: 78% of U.S. companies plan to use IoT more in the next two years. In contrast, only 53% of German companies surveyed planned to increase usage by 2023. The time of use also varies among organizations.
Italy, our country, leads the way with an average of 10 months, just under a year, to reach the deployment phase of an IoT project. Countries like the United States and Spain both take 11 months, while the Asia-Pacific region lags behind, with Japan taking 12 months and China and Australia both taking 16 months. Organizations in APAC (Asia-Pacific) are also more often challenged by not having the resources available to implement and manage IoT solutions.
In conclusion
Industrial IoT adoption remains strong in many sectors such as automotive, transportation, logistics and manufacturing in general, but interesting scenarios are opening up in virtually all other sectors.
The advantages are undeniable to stay ahead in an increasingly competitive environment but this, is possible, only through a reliable technology partner like Alleantia.
Alleantia: we make possible the digital transformation of every industrial reality through the simplest, most scalable and powerful Industry 4.0 solution.
DOWNLOAD THE FREE VERSION OF ALLEANTIA ISC SOFTWARE GATEWAY
If your are looking for more IIoT News, sign up to our Newsletter!